Do you want to make global impact at a scale-up backed by the world's #1 in the logistics industry?

The Twill mission is to disrupt the consolidated logistics industry and 'make shipping simple' – as easy as booking airline tickets, a taxi or hotel. Only two years young Twill is just at the beginning of an exciting journey. They want to remove the logistical barriers of international trade (freight forwarding) for small to midsize customers – a huge global market. And they need your help in ensuring their platform is completely customer-centric and the customer experience is world-class.
As senior web analyst you support product teams and business stakeholders to translate business goals into measurable KPI's to ensure our product development is completely data-driven. You'll set up dashboards, conduct analyses and translate your analysis into actionable insights. Together with the Product Owners, UX lead and Customer Insights Experts in both Twill and Maersk you aggregate all customer insights to define hypothesis and drive the Twill product strategy and roadmap.
Moreover you will be responsible for all technical developments in Web Analytics domain at Twill. You'll support Product Owners and Marketeers to set-up and implement measurement plans. You are eager to test new functionalities in Google Analytics 360 Suite. You share your technical knowledge with colleagues and keep developments in the internet landscape closely monitored.
The senior web analyst works from a solid understanding of technology and business and you will play a pivotal role in realizing it.
Here is a bit of flavour of what you will be working on:
Convert business goals into measurable KPI's, define metrics and develop dashboards, reports and insights
Translate web statistics to recommendations to improve the websites and marketing campaigns
You'll lead out technical implementations of new features using various tag management tools such as Tag Manager 360
Provide implementation documentation to IT/front-end developers
Collaborate with Analysts, Product Owners, and marketers to deliver results
What you can expect from Twill
You will have the opportunity to make a big impact, having responsibility of the design of the web data domains that would boost insights-driven culture among Twillers. And they like to have fun at Twill. There is no sense in coming to work every day if you don't like the people you work with.
Free drinks and lunch, daily fresh fruit and the best coffee (with a cookie) you could wish for. A great place to work, only 600 meters walking distance from The Hague Central Station. A laptop and a mobile phone are included. Huge learning and growth opportunities that include a sizeable yearly training budget, 30 vacation days, travel/commuting allowance and contribution to your pension scheme.
What we expect from you
Engage with stakeholders to understand business problems and build hypothesis.
Able to clearly communicate and with conviction complex analysis – and translate these into actionable insights to stakeholders from different levels and functions.
Able to communicate design solutions effectively to Product Owners, Data Engineers and senior internal and external stakeholders
Experience with A/B testing including tools like Google Optimize is a strong bonus
Your profile
3 – 5 years of experience in a relevant role
Bachelor or Master degree aimed at building websites and related technology;
You have at least 3 years of experience with web analytics tools and have knowledge about implementation of these tools (e.g. Google Analytics, Google Data Studio, Google Tag Manager, Hotjar, Tealium)
You have technical knowledge of JavaScript and SQL
You are data-driven and have solid analytical and Excel skills
You're ambitious, you always want to know more about your field and you look forward to continuous learning
Ability to quickly adapt to rapidly evolving and changing business priorities, along with delivering programs leveraging technology and innovation
A result-driven team player
Fluent written and spoken English
Note: You are working, or are eligible to work as EU-citizen, in the Netherlands.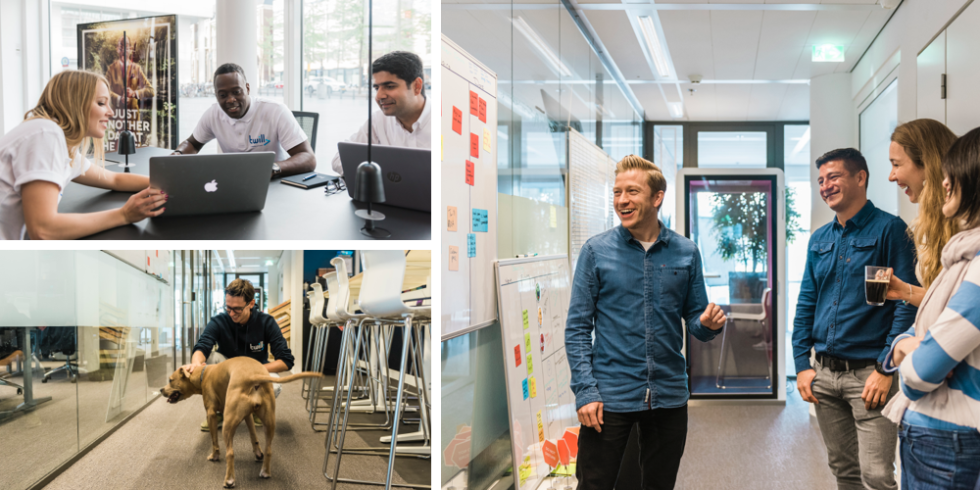 About Twill
Twill is a scale-up (approx. 150 people globally), but they have the resources and benefits of Maersk, a global leading player in logistics (76.000 people in 130 countries). Twill is strategically important to Maersk because Twill is the digital frontrunner – they add value to the logistics process by providing (small to midsize) customers with instant quotations as well as full transparency of the shipping process, simple document management and excellent reporting tools.
Their current team of 25 engineers, working within 6 scrum teams, in The Hague and Gdansk are comprised of the best and brightest across fields, from industry experts to digital designers and developers. And they are united by a single mindset – one that encourages creativity, risk-taking, and a "take charge" attitude. Are you ready to shake things up?
Interested?
Then it's up to you now! You have the opportunity to instantly convince Twill by sending your CV to them. They will contact you within 1-2 working days and inform you about the next steps.
Apply here: senior web analyst at Twill

Questions about this vacancy?
To get the full story about this vacancy or the application procedure, please contact the global recruiter, Esteve Hartensveld through email: esteve.hartensveld@twill.net.
Please note that technical evaluation and online testing are part of the selection process.
Twill embraces diversity. Not only because it makes their work better; it's also more fun. Obviously, they don't care about where your cradle is nor about the color of your birth card. Do you believe in something or nothing? Are you walking hand in hand with Henry or Henriette? At Twill they find it interesting, but it doesn't matter. As long as you are an entrepreneur and optimistic and want to use all your talent for Twill.